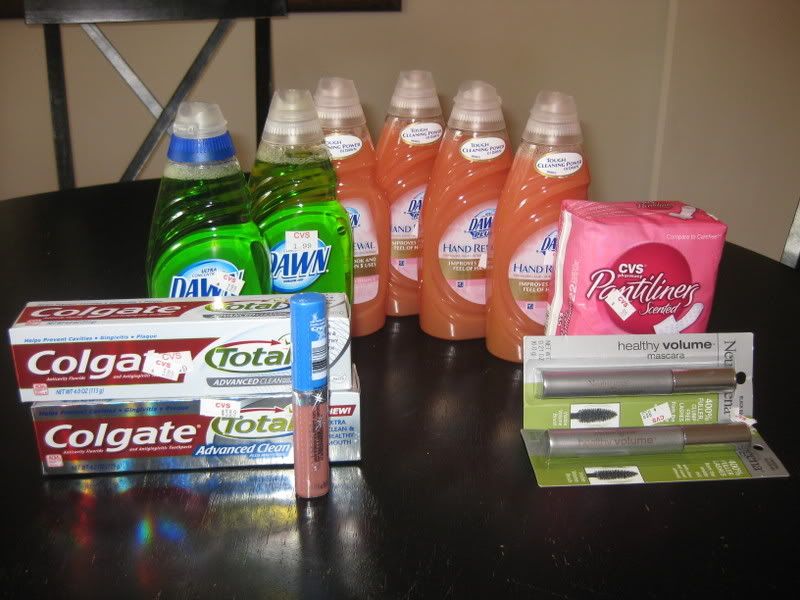 Wow. So I was sort of thinking about taking this week off from CVS, but I couldn't resist the Neutrogena mascara deal. I happen to really like the mascara that I was able to try free a few weeks back. Anyways, I'm glad I went. I stopped at two CVS's because the first was out of the Dawn Hand Renewal and I really hate getting rain checks. The woman ahead of me in line purchased all the rest of them... DARN!
Transaction #1:
(1) Covergirl Wetslick - $5.99
(1) Colgate Advanced Clean - $2.99
(2) Dawn Dish Soap (out of hand renewal)- $1.98 (Probably wouldn't have picked these had I had more time to find a different filler - but my child was freaking out so I went with it)
Used:
(1) -$1.00 Covergirl coupon
(1) -$1.00 Colgate coupon
(1) -$1.00 with purchase of 2 Dawn Dish Soap
(1) -$2/10 CVS coupon
-$5.00 ECBs
Total OOP $1.20 (including tax) Received $7.99 in ECBs!
Transaction #2 (at a different CVS):
(2) Neutrogena Healthy Volume Mascara - $11.98
(1) Colgate Advanced Clean - $2.99
(1) CVS Pantiliner (can't remember the ct. #) - $0.99
(4) Dawn Hand Renewal - $3.96
Used:
(1) -$2.00/3 Neutrogena Cosmetic (from All You)
(1) -$1.50 Colgate IP coupon
(1) -$1.50 CVS CRT for pantiliner (adjusted to -$0.99)
(4) -$1.00 Dawn Hand Renewal (adjusted to -$3.96)
(1) -$2/10 CVS Coupon
-$7.99 ECBs
Total: $1.02 OOP and Received $8.00 ECBs!
So I spent $2.22 OOP and came away with $3.00 more ECBs than I started with!
I'd like to find a way to go back and get trash bags, but I'm not very good at getting good deals on things I don't have coupons for... so we'll see!
The cashier tried to give me a hard time during transaction #2 because she said I could only use 1 Dawn Hand Renewal coupon per purchase. I didn't have to talk her into using them or anything, she just said next time I shouldn't try it. I've never had someone say that to me before, anywhere, ever. I have a feeling at some CVS's the managers try and get cashiers to tell customers lies about coupon rules... or something. At that same CVS they avoid putting sale stickers on shelves of items that are free after ECBS or free after ECBs+coupons. Which I don't think is coincidental. I swear they do it on purpose because there are PLENTY of other sale stickers for other items.
I'm blabbing.