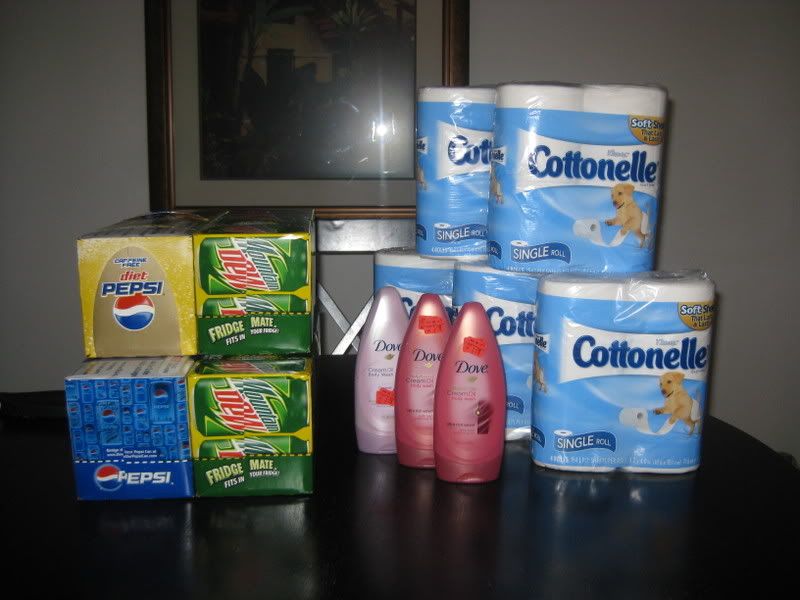 My inlaws will be here on Saturday and they are staying in our house for the first time. This means that we need more pillows and caffiene free pop!
I loaded Alex in the car and he was amazingly agreeable throughout the entire trip. I will highlight my deals.
Target:
-(3) Bottles of Dove cream BODY WASH! on clearance for $1.74 a piece
Used (3) $1 Dove body wash coupons making them $0.74 a piece.
It looks like my store may have just marked down clearance items today because there were quite a few items crammed on the ends of the aisles. At least in the health/beauty section. There were lots of things I wasn't interested in like nail polish and make-up. But, it's worth checking your local Target, you might even find better deals. Usually when people post about cheap things on clearance, I head to my store and the same things are on clearance but they are generally a few dollars more. I didn't put the pillows and pillow cases in the picture. Although they were inexpensive (pillows @ $2.54 each and pillow cases were $7.99 for a 2 pack), they weren't on sale, nor did I use a coupon.
Afterwards we stopped at Kroger next door.
Kroger:
(5) 4-packs of Cottonelle at $0.99 a piece
(5) Pepsi brand 12-packs of pop
Used (5) $0.50 Cottonelle coupons that doubled to $0.99 making them free
I scooped up the free cottonelle toilet paper... and wished I had purchased more newspapers last sunday to get even more toilet paper. But, oh well. I also got 5 packs of pepsi for $11, not including deposit. Not pictured is the 5th pack of pepsi because it fell out of the trunk when we got home and the box exploded.
I'm excited about the body wash. Although $0.75 isn't the best deal of the century, I paid less than the retail amount of one bottle, for all three of my bottles. They started out at $3.5xsomething. We'll find out soon enough if it was on clearance for a reason...
I hope to hit up Walgreens tomorrow to use the $10/40. Idealy I'd like to get there before I have to work. But, it could be interesting getting Alex out of the house that quickly in the morning.
All for now.